Our Japanese Blueberry trees were hit hard by the recent freeze here in Texas. Our landscaper told us that he didn't think they would survive, but we were reluctant to cut them down in the off chance they might make a comeback. We held out hope for weeks and, lo and behold, just the other day, I noticed a hint of . . .  green. Yes, newly sprouting green branches amongst all the withered brown leaves telling us that our hopes have been answered, that new life prevails, and that spring is upon us. Since green is the official color of May, I decided to dedicate this entry to the color green in Interior Design.
As long as humans have been designing interior spaces, the color green has played an integral part in the decor of the home. Ancient Egyptians viewed green as a sacred color, representing the hope and joy of Spring. The interior walls of the Palace of Amenhotep III were painted in bright colors of blue, yellow, and green, each color having a very specific symbolism. This picture shows a mural excavated in the King's bedroom. (Institute of Egyptology, Tokyo, Japan)
Fast forward a few thousand years to the early days of Interior Design in America, where designers like Dorothy Draper and Elsie de Wolfe paved the way for future generations of designers to come. Observing these early works, we can see that green has continued to play an integral role in Interior Design throughout history.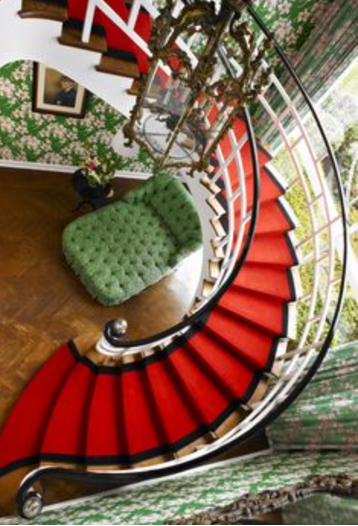 Presidential Suite at the Greenbriar
Interior of Elsie De Wolfe's music pavilion Dorothy Draper
You don't have to look far to find green expressing itself in the works of modern-day Interior Designers. I absolutely love this living room by Celerie Kemble and Lindsey Herod where celery green provides the backdrop for an array of vibrant accent colors.
Brittany Ambridge
This living room, designed by Gwen Driscoll, is reminiscent of a traditional English drawing room, where homeowners might visit with guests or retreat for a quiet place to unwind. I could spend hours in this space, reading a good book with a cup of tea or just daydreaming the time away.
Paul Costello
If the kitchen is the heart of the home, then shouldn't it be fabulous? This Art Deco inspired kitchen by designer Kate Rheinstein is to die for. Even a novice chef would feel like Julia Child in this space.
Simon Upton
Clearly, I am obsessed with green. Perhaps it's because we are beginning to see the light at the end of the tunnel with regard to the pandemic. Or perhaps it is because reminders of spring are all around us, like the new buds on our Japanese Blueberry trees. Or maybe I've just always loved green. I recently came across this sketch I did in my Rendering class years ago in design school. I was drawn to this California chic living space because of the casual elegance and, yes, the pops of green. Then and now, I am in love with Vibrant, Exciting, Succulent Green.